Beard Nets / Covers
Cleanroom beard nets and beard covers are your solution for containing facial hair and keeping it from contaminating your cleanroom or dust controlled environment. Exposed facial hair can contaminate products, machinery, equipment, clothing, and surfaces which can lead to a degraded quality over time. With the low cost of a simple beard net you can avoid much larger expenses when it comes to maintenance, cleaning, and more. Have workers with long beards? Beard nets and beard covers also provide them protection on the job. It will contain the long beard make it safer around machinery and other hazardous work areas where the long hair could get snagged or caught. Disposable beard nets and beard covers are both latex free and feature a latex free elastic band to hold it comfortably to the face.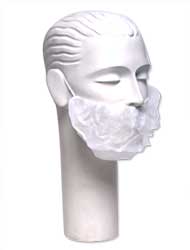 Nylon Beard Covers
Beard Nets are made of flame-retardant nylon netting. Soft, latex-free elastic holds the beard net in place for comfortable extended wear. LATEX-FREE
Color: White
Mesh sizes: 1/8" or 1/16"
Packaging: 100 nets per polybag, 10 polybags per case, total 1,000 per case
Applications: Food handling/production, industrial manufacturing
Cleanroom Beard Nets & Covers Data Sheet [PDF]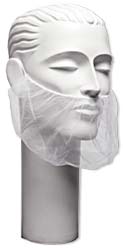 Andvantage I Beard Covers
Beard Covers feature full coverage with a comfortable elastic band for a secure fit. LATEX-FREE.
Color: White
Packaging: 500 per case
Applications: Medical, food handling/production, cleanroom, critical environment, industrial manufacturing.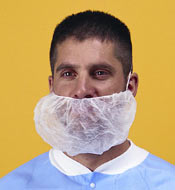 Stockinet Beard Net
The Stockinet is made with an extra soft fine mesh nylon. The nylon is flame resistant for worker safety.
Color: White
Packaging: 1000 per case
Sizes: Large and X-Large.
Products & Secure Online Ordering
Contact PLX Industries