Latex Gloves
Cleanroom Latex Gloves Data Sheet [PDF]
Cleanroom Latex Gloves are ambidextrous and assure chemical resistance to alkalies, acids, alcohols, and ketones. Excellent tensile strength makes our glove strong, durable and comfortable for all day wear. Finger tips are 7 mil thick (8mil on 12" length) providing superb tactile sensitivity. Available in nine or twelve inch lengths, these durable latex gloves have a rolled cuff for easy donning and a textured grip for sure wet/dry handling. Gloves are DI wash processed and double poly-bagged to ensure our high quality standards. Texture is on the finger tips - where you need it most. The remainder of the glove is smooth to eliminate areas which could retain particulate matter. Sizes range from Small to Extra Large.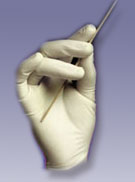 Latex Exam Gloves offer unsurpassed tactile sensitivity, dexterity, flexibility and tensile strength. These gloves are lightly powdered with a special low magnesium, biologically absorbable cornstarch to make donning easy, and all day wear comfortable. Using only the highest quality raw materials, each glove is chemically resistant to acids, alcohols, alkalies, and ketones. Smooth finish.
Powder Free Latex Exam Gloves are tested twice to insure the highest possible quality, strength and flexibility. This ambidextrous glove provides ultimate protection against contamination and assures chemical resistance to alkalies, alcohols, acids, and ketones. Textured finish.
Applications: Medical, Dental, Laboratory, Industrial, Safety
Products & Secure Online Ordering
Contact PLX Industries