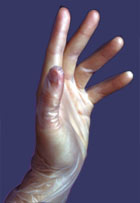 Vinyl Exam Gloves
Products & Secure Online Ordering
Contact PLX Industries
Confidence is key. When you see, smell and stretch a pair of our Vinyl Gloves, you will feel the quality and consistency that is inherent in all of our gloves. Slip your hand into a pair, and you will quickly discover that these are gloves you can rely on for protection and comfort.
Powder Free Vinyl Exam Gloves are the ideal solution when an economical, Non-Latex alternative is needed. At just 6mil thick, these gloves offer excellent tactile sensitivity which is further enhanced by their smooth, seamless surface. These Vinyl Gloves offer a flexible fit to reduce hand fatigue for comfortable, extended wear. Vinyl Gloves resist inoranic acids, alkalies, and corrosive inorganic chemicals. Beaded for easy donning.
Lightly Powdered Vinyl Exam Gloves offer the same qualities as our Powder Free Vinyl Exam Gloves. These gloves are powdered with an absorbable cornstarch for easy donning and comfortable wear.
Cleanroom Vinyl Gloves
Cleanroom Vinyl Gloves are ideal for use in microelectrotronics, medical component manufacturing, pharmaceutical manufacturing, and other cleanroom environments where a a low particulate glove is needed. These smooth finish Vinyl Gloves are 5 mil thick (6 mil on 12") providing excellent tactile sensitivity. Vinyl carries an extremely low static charge providing excellent product protection for static-sensitive components. The seamless construction design provides an ambidextrous, comfortable fit. Vinyl provides protection against inorganic acids, alkalies, and corrosive inorganic chemicals. Gloves are available in nine or twelve inch lengths, and are packaged in double-poly bags to ensure product quality standards. Sizes range from Small to Extra Large.
Applications: Medical, Industrial, Dental, Laboratory, Safety
Products & Secure Online Ordering
Contact PLX Industries
Cleanroom vinyl Exam Gloves Data Sheet [PDF]
Cleanroom vinyl Clean Grip Gloves Data Sheet [PDF]