Cleanroom Bouffant Caps
LATEX FREE!
Do you need a low cost way to contain hair on the job? Disposable bouffant caps are the affordable solution to your problem. Bouffant caps are made with polypropylene which is a lightweight and breatheable material for worker comfort. The polypropylene is solid fabric unlike the nylon netting of hairnets, which ensures all hair stays where it should. Cleanroom Bouffant caps are ideal for food handling, cleanrooms, medical facilities, and other contaminate controlled areas. Bouffants come in a variety of sizes and feature an latex free elastic band.
Cleanroom Bouffant Caps Data Sheets [PDF]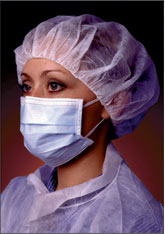 Polypropylene Bouffant Caps are highly breathable and low-linting. Bouffant caps are available in 18", 21", or 24" sizes making the cap comfortable and secure for any hair style. Bouffants are packaged in boxes for medical and/or general use, or bagged for cleanrooms.
Applications: Medical, food handling/production, cleanroom, critical environment, industrial manufacturing.
Contact PLX Industries