Cleanroom Advantage Plus Sleeves
Disposable sleeves are a low cost solution for protecting arms and limiting the spread of particulates. While on the job workers arms can be exposed to any number of surfaces, objects, and chemicals. Cleanroom sleeves will help reduce the exposure because contaminates get on the sleeves and not on the worker's clothing. All sleeves are made with a low lint material that has a low particle release which reduces the spread of dust and particulates by the arms. If workers handle or have to inspect product in production then sleeves will help keep dust from being dispersed on your product as workers reach across a tray or conveyor of product. Disposable sleeves will also suited for handling water-based liquids because it will not penetrate.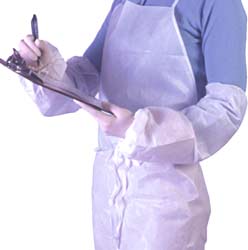 Advantage Plus, the ultimate alternative to Tyvek®, offers protection in general purpose industrial applications. Lightweight yet durable, Advantage Plus is ideal for food manufacturing, light industrial, cleanroom, and similar industries where a low particulate barrier garment is necessary. The fabric will not let water-based liquids penetrate. By lightly coating polypropylene with a layer of polyethylene, the material has a reduced particle release and protects from water based liquids and certain chemicals. This coated material is an economical choice for worker comfort and safety.

Color: White

Packaging: 200 sleeves per case

Applications: Paint spraying, abatement, cleanroom, fiberglass handling, mining operations, nuclear industries, food processing, general maintenance, light chemicals, pesticides handling, asbestos, dental, surgical scrub, veterinary.
Advantage Pro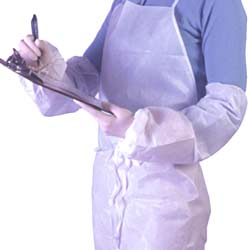 Advantage Pro, is a 3-layer material that is ideal for many situations where dry particulate barrier and repellency are needed. Advantage Pro provides an excellent barrier against water based liquids and is resistant to light chemical splash. Worker comfort is greatly increased because Advantage Pro is lightweight, soft and breathable. It offers improved strength, splash and particulate resistance against many workplace hazards. Advantage Pro is also treated with an anti-static agent. When a durable, comfortable garment is needed, Advantage Pro is the ideal choice.

Color: White, Light Blue

Packaging: 200 sleeves per case

Applications: Nuclear power plants, asbestos, food industry, paint spraying, fiberglass handling, lab/biohazards, cleanroom, medical, general cleaning, metal surface treating, pharmaceutical industry, nontoxic liquid handling.
Polyethylene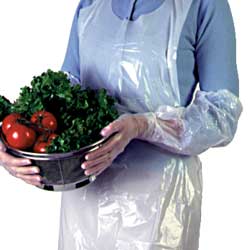 Lightweight yet durable, polyethylene is ideal for food manufacturing, food handling, light industrial, and similar industries where splash protection is necessary. This thin, polymer material is an economical way to keep clothing clean and protected from water based liquids and certain chemicals. Complies with FDA guidlines for food handling. Polyethylene is inherently anti-static with a maximum static decay of 0.5 seconds.

Color: White and Smooth

Packaging: 10 sleeves per roll, 10 rolls per polybag, 10 polybags per case, total 1,000 per case
Applications: Food handling, food preparation, laboratory, pharmaceutical, medical, dental, industrial, general light splash protection.
Vinyl

Vinyl sleeves have elastic ends for secure forearm protection. They come in 6-mil or 8-mil thickness.
Cleanroom Advantage Plus, Advantage Pro, Polyethylene, Vinyl Protective Sleeves Data Sheets [PDF]
Keyguard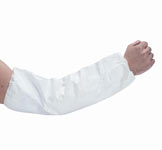 A cost savings alternative to Tyvek that provides the worker with outstanding protection, durability, and comfort. Keyguard is microporus polyolefin fabric that is very effective everywhere Tyvek is used.

Color: White

Packaging: 100 pair per case
Size: Large (18" x 9")
Tyvek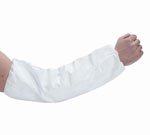 Tyvek is a spun bonded olefin fabric that is made from high density polyethylene fibers that offer unique qualities of excellent barrier protection and strength. Tyvek is lightweight and highly resistant to water and chemicals. The unique low-linting properties, combined with the barrier properties, make Tyvek garments an excellent choice for Cleanroom apparel in pharmaceutical manufacture and electronic device assembly.

Color: White

Packaging: 100 pair per case
Size: Large (18" x 7 1/4")
SLEEVES


CAPP0380

Sleeves, Polyethylene, 18", 100/bag, Available in White, Blue or Clear

1000/case

$67.16

CAPP0380-21-18

Sleeves, Advantage Plus, 18", White

200/case

$62.96

CAPP0380-21-20

Sleeves, Advantage Plus, 20", White

200/case

$68.14

CAPP0380-21-18-ADP

Sleeves, Advantage Pro, 18", White

200/case

$72.76

CAPP0380-21-20-ADP

Sleeves, Advantage Pro, 20", White

200/case

$79.76

CAPP0380-21-18-MPC

Sleeves, Micro Porus Clean, 18", White

200/case

$83.96

KSAG-KG

Sleeves, Keyguard

100 pair/case

$54.94

KSAG-TVKI

Sleeves, Tyvek

100 pair/case

$124.82

KSAG-PVC

Sleeves, Vinyl PVC - White

12 dozen pair/case

$130.98

KSAG-PVC

Sleeves, Vinyl PVC - Blue

12 dozen pair/case

$130.98
Products & Secure Online Ordering
Contact PLX Industries