Cleanroom Surgical Caps
Products & Secure Online Ordering
Contact PLX Industries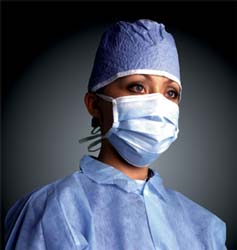 Surgical Caps feature non-linting Kaycel fabric with a polypropylene top for breathability. Kaycel is an absorbent material that will trap perspiration keeping it out of the user's eyes. The cap is universally sized with polypropylene ties at the back to adjust for a comfortable, secure fit. Caps are blue colored and come in boxed packaging.
Cleanroom Surgical Caps Data Sheets [PDF]
Applications: Medical, food handling/production, cleanroom, critical environment, industrial manufacturing.
Products & Secure Online Ordering
Contact PLX Industries