Sticky Mats & Adhesive Mats
Do you need to cut down on dust and dirt in the work place but don't need disposable clothing? Then sticky mats are the solution for you, that will leave dirt at the door. Sticky mats are best used in front of doorways, narrow hallways, or high traffic areas. When in use sticky mats will trap dirt on shoes, wheels, or anything else that goes across them. Containing dust couldn't be easier, and depending on traffic across the mat, it can last up to several weeks or one month.
Products & Secure Online Ordering
Contact PLX Industries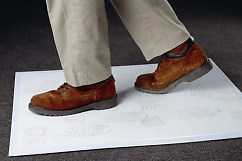 Contain Dust with Layers of Adhesive Film
Sticky mats are made from several layers of an adhesive coated film. The adhesive on each layer will trap dirt, dust, and debris without transferring to shoes or wheels. Each layer has a layer tabbed in a corner of the mat, for easy removal of individual films layers. When the exposed layer no longer sticks when traversed, grab the tab and pull off to reveal a fresh layer of adhesive. Choose between sticky mats with 30 or 60 layers of film.
Stick mats in place or move them around
Safety can be a concern when placing anything on the floor that people have to walk over whether it is fixed to the floor or not. Our sticky mats are designed so that they will not slip out from under anyone or anything when travsersed. We offer 2 types of adhesive mats, regular and framed mats. Regular sticky mats have an adhesive bottom that is covered by a removable backing. The adhesive bottom allows the mat to be adhered to flat surface, and keep it in place. Like the adhesive on the layers of film the bottom adhesive will not leave a residue behind on the floor when the mat is removed. Once a regular sticky mat is placed on the floor it isn't meant to be moved.
Framed mats on the other hand, are sticky mats that are adhered to a hard polystyrene board. The polystyrene board has an antislip backing and can be picked up and moved if needed. Framed sticky mats are convenient for use on carpet, textured surfaces, and where nothing can be fixed to the floor. When the sticky mat on the frame is used simply add a new one to the reusable frame.
Cost Effective and Easy to Order!
Never Run Out! Our cleanroom sticky mats are available at a low price. They are useful and effective money savers.
Products & Secure Online Ordering
Contact PLX Industries
PLX Industries Versatile Mats are ideal for:
• Cleanrooms
• Manufacturing Office
• Industrial
• Food Preparation
• Hospitals
• Laboratories
• Aerospace
• Computer
• Schools
• Construction
• Print Shops
• Manufacturing

Sizes Available
18 x 36
18 x 45
24 x 36
24 x 45
36 x 36
36 x 45
36 x 60
Cleanroom Sticky Mats come in blue,
gray, and white and in
a variety of different sizes.