Face Masks
Latex Free!
Keep workers healthy longer by using cleanroom facemasks. While wearing face masks workers can greatly reduce the amount of dust or particulates that are inhaled. Disposable face masks are used when renovating, cleaning, handling food, working with powders, providing medical treatment, and even public health against outbreaks. With the pleated 3 ply design our face masks have excellent filtration and are available for an affordable price.
Is eye safety a concern on the job as well? Then a face mask with protective shield is the solution to you need. The shield protects the eyes from getting debris and dust on the job. Lightweight and clear the shield sits stands up and away from the eyes which makes it comfortable for those with prescription glasses too. Disposable face masks with protective shields are ideal for working around machinery, ceiling removal and repair, handling hazardous chemicals, and more.
There are 2 styles of face masks, ear loops or tie-on. Ear Loop Face Masks have a latex elastic band that fits around the ear. Tie-On Face Masks feature a pair of polypropylene straps that are to be tied together.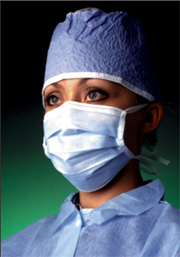 Ear Loop and Tie-On Masks are made of soft, non-woven polypropylene. The 3-ply pleated design offers 0.05 micron filtration at greater than 99%. Masks are fluid resistant and disposable. The Ear Loop Mask fits snugly around the ears with elastic loops. A full length flat aluminum wire forms comfortably to the nose and face to maintain an excellent fit for maximum filtration. Tie-On Masks are secured with two pair of polypropylene ties.
Ear Loop/Tie-On Masks with Protective Shields utilize the same high quality masks as our regular Ear Loop and Tie-On Masks with the addition of ultra-protective eye shields. This permanent anti-fog shield is optically clear and extremely lightweight. The shield offers full peripheral vision even when worn with prescription glasses.
Applications: Medical, critical environment, food handling/production, dental, cleanroom, industrial manufacturing.
Contact PLX Industries
Clean Room Face Masks (w/ ear loops) Data Sheets [PDF]