Cleanroom Hair Nets
Is loose hair a concern in a clean environment. Hairnets can help you contain hair and keep your facility, manufacturing line, kitchen, or contaminate controlled area free of loose hair. Long hair can also be a safety hazard in an industrial work place, and hairnets will help keep hair away from moving parts on machinery. Hairnets are made of nylon and come in 2 styles and a variety of sizes. With the latex-free elastic band, hairnets will stay in place and have a snug yet comfortable fit.
We also have beard nets to contain beard hair and keep your cleanroom facial hair free. Check out our beard nets here.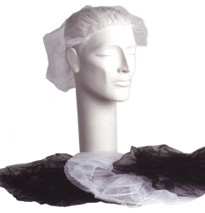 Honeycomb Hairnets are made of flame-retardant 1/8" nylon netting. A latex-free elastic band keeps the hair net securely in place without the need for twisting or tying. The soft, comfortable caps are ideal for keeping work areas clean and sanitary. Available in white, black or brown in 18", 21", or 24" to fit any hairstyle. Washable. Packaged 100/polybag, 10 bags/case.
Nylon Mesh Hairnets are made of an extra soft, flame-retardant, stocking-like nylon. This hairnet is washable. Packaged 100/polybag, 10 bags/case.
Cleanroom Hair Nets Data Sheets [PDF]
Products & Secure Online Ordering
Contact PLX Industries